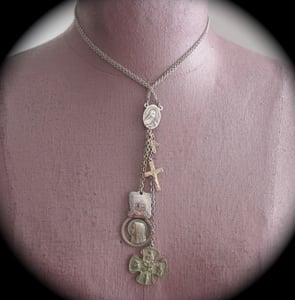 $

68.00
...they always said she was such a saint...if only they knew the real truth...
Repurposed Vintage Ingredients: sterling silver Mary rosary charm holds up a tassel of vintage & antique Italian religious charms: dainty sterling silver cross, a Catholic rosary cross, Ten Commandments charm "Thous Shall Not Take The Name of the Lord in Vain", silver Mary silhouette, & an ornate cross with saints & dove in the middle. Delicate silver chain completes the necklace. Pendant dangles 5"s & the necklace measures a long 28"s & may be looped through itself to form a lariat style necklace (as shown in the first picture).
...mercy, mercy me, things aren't what they used to be!
Absolutely One Of a Kind!!